What's New?
2014-07-15
Doilie Foundation Newsletter • Issue 2
It has been months since I last wrote to you en ek laat my kop in skaamte sak. I have no excuse apart from the fact that looking after five teenagers is a full-time job on top of my other full-time jobs – in short, I am kept busy full-time and a bit more, met die gevolg dat 'n paar dinge agterweë bly.
I am not going to bore you with detail of the daily life of the Doilie Klub and Doilie Foundation, but stick to the BIG stuff to bring you up to date:
The most important thing that has happened to us in the last couple of months would be the granting of our Public Benefit Organisation status as well as our Non-Profit Organisation status after two years of battling red tape. The Doilie Foundation is now in the position to issue Section 18A certified receipts for tax purposes for any donations received!
The Foundation has a brand new web site, (www.doiliefoundation.co.za) and the Facebook Page (https://www.facebook.com/pages/Doilie-Foundation/164199080368967?fref=ts) has been updated. Please visit or 'like' them!
Our Naledi Dweba was selected to play with the South African National Youth Wind Orchestra – aah, that boikie makes my heart sing! The two other boikies and I drove to Durban to surprise him on the night of their last performance. There was a truck accident on the road just before Warden and we had to turn around and take an alternative route resulting in eleven hours on the road – the look on Naledi's face when he saw us gave worth to every one of those hours!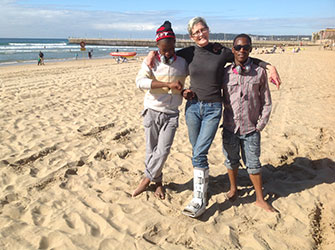 The boikies and I managed to squeeze in a beach visit.
Marita van den Vyver will be in South-Africa with her French husband, Alain Claisse next week to launch their new cook book, Winter Food in Provence and they are spending a couple of nights with us at Zietsies. On Tuesday 22 July Agnes and I will cook dinner for them from their book and you can come and join in the fun. R 300 per person will get you a welcoming drink, three course meal and coffee. Send me an e-mail (info@zietsies.co.za) to book your chair/s at the Provencal Table!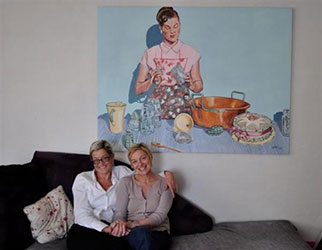 Met die bekendstelling van Dis Koue Kos, Skat het Marita ook by Zietsies gebly en gekuier!
Chris Chameleon will be doing a concert for the Doilie Foundation in August/September and I will let you know as soon as the date has been confirmed!
I need help to find somebody, please. A person by the name of MR JOHANNES NIEMANDT JL has been making a monthly payment to the Doilie Foundation with the reference 'Dankie Universe'. I have no record of a Johannes Niemandt on my data base and would appreciate if anybody can point me in the right direction so that I can thank this person and issue a tax certificate for the donations.
Mandela Day will be celebrated this week and if you haven't gotten around to knitting a blanket or volunteering your services to a soup kitchen you could follow Johannes Niemandt's example and make a donation to the Doilie Foundation – one, two, three and your 67 minutes are done! (ABSA 408 021 6839 – and remember to send me the detail for a certified Section18A receipt – elzabe@doiliefoundation.co.za)
I hope to see all of you soon.
Elzabé